Discover more from Deliberate Internet
Nuanced perspectives combining Remote Work, Technology, Psychology, and my other latest obsessions. I have nothing to sell, except curiosity, and a lifestyle of growth.
Over 1,000 subscribers
Three-Day Priest and the death spiral of bs
That's right: No AI content this week.
I have a great take on AI and Hallucinations, but I decided you need some rest from my insightful AI-related commentary. So here is an issue WITHOUT AI (more and more rare in all things these days).
There is a Japanese term, 三日坊主/mikka bouzu, which translates to "three-day priest", used for people who start a new thing with fervor and enthusiasm, only to get bored and quit a few days later.
Thanks for reading Deliberate Internet! Subscribe for free to receive new posts and my great illustrations
Do you have friends like that? Are you sometimes like that? I know I am!
A few things I've read
I am a bit fascinated by the organizational culture at Apple. You can make obvious criticisms about their products, but they have shipped consistent quality at an enormous scale for decades (which the market recognizes).
Seeing how hard it is to ensure the quality of your software at a larger organization, it impresses me to no end how Apple can do so. Andrea Pacheco uncovers some of the secrets in his post:
Projects get built when enough people believe in them. From small talks to elaborating decisions to VP presentations. The way we speak, project ourselves and elaborate our thoughts is fundamental for getting consensus, influencing people, and moving things forward.
Oh yeah, the hidden labor of innovation. Getting stakeholder buy-in is probably the most overlooked cost in shipping your stuff. It sounds excruciating, but then Andrea follows up with the insight that the famously restrictive top-down culture is the way to solve this problem:
How many times in a bottom-up culture, do we spend weeks and weeks, sometimes even months, trying to get alignment with +10 people, because every single person needs to agree with the point of view? It is exhausting
As an employee in a bottom-up culture organization, it is exhausting indeed.
To illustrate how impressive Apple looks, Austen has a great thread about the industry baseline:
As startups grow there is extremely strong pull into what I call the death spiral of bullshit. More people -> more teams -> more buy-in required -> more meetings -> being persuasive rewarded more than building -> builders leave -> nothing gets done
I'm growing convinced that the single most important cultural aspect of a company is if/how they avoid this spiral
The remedies he lists are particularly interesting, as I have settled on exactly the same list by randomly experimenting:
Things I've seen work:

- Teams as small as possible

- Extremely high talent bars

- Explicit decision-maker + disagree and commit

- Permission assumed in all things

- High tolerance for the (good) failure

- High tolerance for (good/non-infra) technical debt

- Zero tolerance for not being in details
The ideas of small teams and even encouraging some technical debt are the hardest to sell.
I may write a whole essay praising technical debt since the efforts to unconditionally avoid it usually backfire and rot into complexity, scope creep, and multi-month delays. When the stakeholders finally demand results, projects are haphazardly shipped and produce more technical debt than a comparable, non-perfect solution.
Hard to locate sounds
When an ambulance is trying to get through traffic, you are supposed to let it pass. But whenever I hear one, I have great trouble pinpointing where it is coming from, especially at the intersection.
I was under the impression that I'm the only one but it turns out there is an explanation for why ambulance siren or smoke detector beep is so hard to pinpoint:
HRTF (head relative transfer function) gets much of the information from differential results across frequencies. A rich tone is better than a sine wave, and a human voice going "Hey!" Would be even easier to find.
Found a person who's growing their own tool handles by placing the tool heads over small branches & allowing them to grow in place over the span of a few years

This is the correct pace of life & the ideal orientation towards work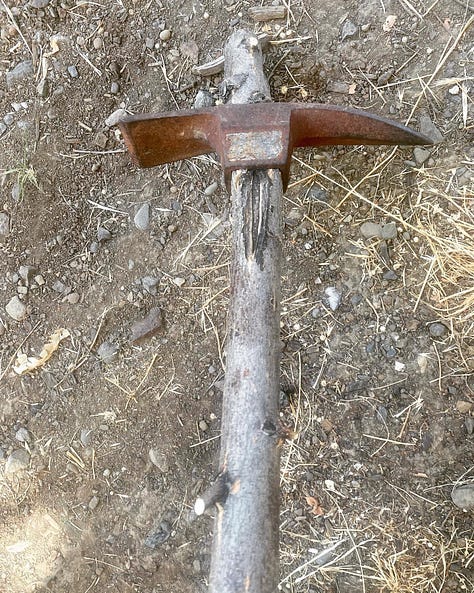 Thanks for reading Deliberate Internet! Subscribe for free to receive new posts and support my work.